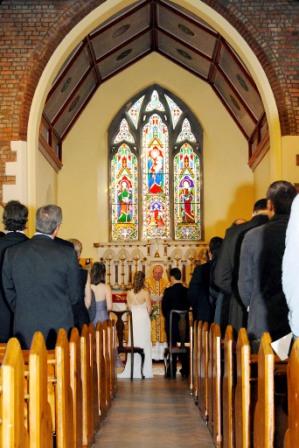 Planning a wedding can be a very stressful time for the bride and the groom. During these times, it can be difficult to go to others for support and assistance with decisions due to the fact everyone has their own ideas and you will wind up in a bigger state of confusion. It's important to remember it is your wedding; so, use the advice below to help navigate through the planning process.
Keep in mind that for many, religion plays a significant role on both their wedding day and their actual marriage. Religious beliefs or the lack of religion should be discussed well before marriage.
If you prefer to handle the refreshments and foods on your own, save money by shopping at wholesalers, such as Sam's Club and Costco. This will allow you to save loads of money. It is acceptable to ask others to assist with these costs in lieu of gifts if finances are tight and you do not want to run out of food at the reception.
Wedding dresses can be quite an expense. When you are browsing through dress shops, remember to look a dresses that are not officially categorized as wedding dresses. For example, a bridesmaid dress is typically much less expensive and may be just what you're looking for. Even if you want the dress altered to change some of the styling, it could turn out to be cheaper than a wedding dress.
Going online to purchase your wedding dress can save you a small fortune. However, you should make sure that you order it well before the big day in order to allow time for any alterations to be carried out should they be needed. You can purchase wedding gowns for as low as $100 online, but sometimes the alterations may cost you double that amount. Budget in this additional cost.
Try to make your wedding day more personal by using elements that symbolize you and your future spouse's relationship and personalities. Pick a wedding theme that tells the story of your relationship.
The pictures that are taken at your wedding are very important as you will look at these for the rest of your life. Hire a professional to take your photographs even if it costs a little more as you'll be able to rely on the fact that your entire day will be captured properly.
Avoid over-dieting just to fit your dress! You are going to find yourself dehydrated and lightheaded if trying to lose weight too quickly prior to your wedding. The last thing you want is to faint during the ceremony! The best idea is to purchase a dress that has a corset back. This will allow you to adjust if necessary before walking down the aisle.
The first thing you have to think about is the person you are marrying. This is a huge commitment, and rushing into things for the sake of being married may be catastrophic. Make a detailed list of the things that endear this human to you, and likewise the things that you may not appreciate so much.
Wedding Cake
If you do not want a traditional wedding cake, consider individual-sized cakes. A variety of healthy alternatives are available for a wedding cake that won't cause sugar shock.
Fashionable and luxury-loving brides can choose to embellish their bouquet with a touch of sparkle; think Swarovski crystals, rhinestones, and even a sprinkle of diamonds. You can do this by attaching small crystals, costume jewelry, or perhaps a special piece of jewelry with some kind of adhesive. To ensure that it coordinates with the rest of your ensemble, be consistent in terms of sparkling colors, cut, and size of the stones.
Flowers look beautiful as centerpieces on the dinner tables, but don't overdo it. The majority of the time, these flowers are in the guests' way. Plus, some guests may be allergic to flowers. Opt for using non-scented candles instead of flower arrangements for a romantic and luxurious look.
Congratulations on making it this far. If the idea of planning a wedding hasn't deterred you yet, you are probably ready for the challenge. Make your wedding your own. Use the tips in this article and make your special day into your dream come true.